What Our Clients Are Saying About Us
---
Jeff & Nicole Hagen
Dear Mark & Laura

Jeff and I want to thank you both once again for the amazing service, partnership, and friendship over the past couple of months. You were so informative and patient with us during our first home-buying experience. It was a lot of work, but also a lot of fun!

We can't wait to make our new house a home. We hope to have you both (& Fizzbo) over soon to see the new place. Thanks again,

Jeff & Nicole H.


---
Heather Erickson
Recommendation:

As I sit out on the deck of my beautiful new house I realize how very blessed I was the Mark and Laura Anderson were my realtors. When my fiancé left for Iraq for a year long deployment, we had decided that we wanted to purchase our first home together when he returned home from duty. Luckily Mark and Laura Anderson found me when I was searching through the thousands of houses listed online. For months they corresponded with me through listingbook.com recommending houses to see and sending me morning reports on new listings. Throughout this time they were very patient with me and never pushed me to view homes before I was ready. When my fiancé Jeff returned home from Iraq I had a list of 200 houses in my favorites section of listingbook.com from all the months I had been on the site searching for our first home. Jeff and I were quickly and easily able to narrow down our favorites list to 15 homes and we reached out to Mark and Laura to help us with our house hunt. Immediately we received a response from Mark and the next day we were viewing homes. We fell absolutely in love with one of the houses we had seen on our first day of viewing houses and within 4 days of starting our house hunt, we had made an offer. It was such an exciting time for Jeff and I that was stress free from all of the assistance from Mark and Laura. The offer was accepted and the closing was as smooth as could be. I found it extremely helpful that both the Title Company we used and the Mortgage Company we used were located in the same building as Mark and Laura and had worked with them many times before.

The timeliness, one on one attention and knowledge that Mark brought to every house viewing was astounding. Mark and Laura never once pushed us to look at homes priced outside our comfort level and never pushed us to make an offer. I wish my sister who had used a different realtor (will not give name) had used Mark and Laura because I feel that her house hunt would have gotten a lot more attention and would have turned out more positive had she used Mark and Laura. I would recommend Mark and Laura Anderson (and already have to one of my closest friends who is viewing houses tonight) because:

1. They seemed highly knowledgeable about not only the housing market, and location, but also the homes themselves.
2. They were extremely caring and patient with us never once pushing us into a decision we were not ready to make.
3. They were highly ethical and wonderful people to work with.
4. The speed and attention that Mark gave our house hunt was astounding.
5. The process of making an offer through closing the house and receiving the keys to our first home was a smooth as could be.

Not only did Mark and Laura send us fresh cookies to congratulate us on our new home (which was a great personal touch!), but they also stopped by the house to take a picture of Jeff and I with the sold sign because Jeff was called away on orders when we received our keys. The fact that they took time out of their evening to stop by to take a picture of Jeff and I together with the sold sign in front of our first home was really touching. They are fabulous realtors and I would highly recommend them to anyone looking for an ethical, dependable, timely, caring realtor.

-Heather Erickson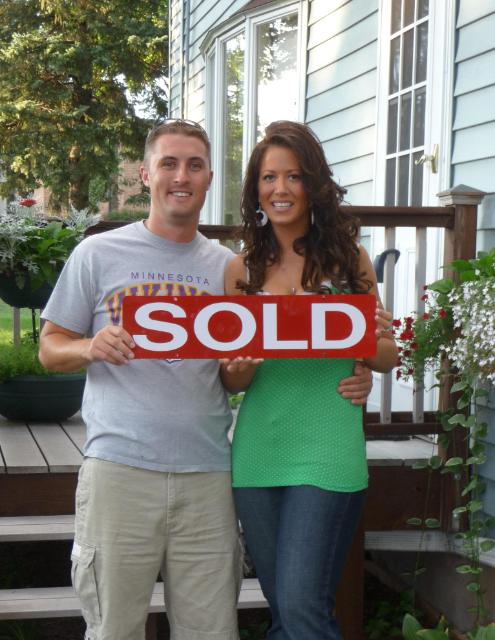 ---
The LaRosa Family
My husband and I bought and sold several homes over the last decade or so before moving to Minnesota. Prior to meeting Mark and Laura Anderson we believed that we had always received excellent service from our past realtors. We now realize that we did not really understand the definition of excellence. After having the Andersons as our realtors, we have come to expect a whole new level of service. We relocated to Minnesota without ever having visited the state. Our unfailing sources of accurate information about the state and the Twin Cities were Mark and Laura. They thoroughly answered all of our questions from well water to water parks, more like friends than realtors!!!

Going through the relocation process in the current real estate market, especially selling our out state home proved to be quite challenging. While they were not the realtors on that sale, we talked more often to them, than our local realtor handling the sale. They sent us Minnesota properties daily, to view over the Internet and updated us as our "watch" list changed. My husband and I looked forward to those emails and reviewing became a nightly ritual. Laura even provided moral support and encouragement through the packing and moving process. She was particularly helpful in figuring out what we would need to bring with us vs. put in storage since we would be in temporary quarters for two months and were unfamiliar with the Minnesota climate.

When we arrived in St. Paul, we were still on the relocation time line and had to learn the area as well as house hunt in the first 10 days after arriving. We viewed at least 50 houses the first week and placed an offer at the start of the second week. Mark visited each of these homes with us. He pointed out what he saw to be the strong or weak points of each house. Again, since we were unfamiliar with the area, climate and the construction practices, this proved to be invaluable. We don't know where he found the time to do this for us, but we are grateful that he did. It was a whirlwind, but again, Mark and Laura walked us through the process and made it as simple as it possibly could be. Although we know it wasn't the case, they made us feel like we were their only client.

Their web site, as expected, is just like them, a wealth of useful information. We've relied on it many times.

We appreciate the Anderson's efforts to make one of the most stressful times of our lives, much less so! We also feel like we made our first friends in Minnesota!

Warm Regards,

The La Rosa family



---
Molly O'Connor
Hi Mark and Laura,

I truly enjoyed working with you last summer on the sale of my old home and purchase of my new home.
I always knew that you had my best interest in mind, and not just your paycheck. The ways you showed me this, were by all of the open houses you held, the marketing, and advertising you did to make sure my home was sold in a tough market. I was never once asked to lower my price for a quick sale. I appreciate this, and because of this I recovered a fair price for my home.
When I was looking for my new home, I appreciate all of the places that I was taken to, and the patience as I made a difficult decision. I was taken out many times, and back to the home I finally chose multiple times.
I appreciate both of you. You are good and hard working people, and you treated me like family. I had complete trust and faith in you through the entire process.
If I move again, you will be the people I call, but I love my new home soooo much, that won't be soon.
Thanks again for a great experience in a tough market,

Molly O'Connor

---
Ben & Jill Schmidt
Ben & Jill S.

Dear Mark & Laura,
We appreciate all of your hard work on finding our home. We have really enjoyed working with you both. Thank you for the grill set. It will be getting lots of use. Thanks again for all of your time and effort. Sincerely, Jill & Ben



---
Corey & Kim Maxwell
Corey & Kim M.

Dear Mark & Laura,
Corey and I want to thank you for helping us find the perfect place. We are so excited about the town house and it's great location (not too far from a Starbucks)! I give you both so much credit for putting up with all our questions (and the many more yet to come). It has been a pleasure working with both of you. Thanks again!

---
Mark, Lisa, Joey & Maria Lenihan
Mark & Laura,

Thanks so much for all your help physically and emotionally. It has been a joy to work with the both of you. Take care and thanks again.

---
Cliff & Diane Whitson
To Whom It May Concern,


When we decided to sell our house, after 29 years, Mark and Laura Anderson were the realtors we chose. They were very helpful, friendly and fun.

Mark and Laura worked very hard selling our house and helping us find just the right townhouse. As a matter of fact, they sold our house ?three times´! The first two times the buyers were told they qualified, but in reality they were not.

Knowing we had to sell our house quickly they worked very hard advertising, keeping us calm and making sure we were updated on a daily basis.

Within a couple of months our house was sold and we moved into our beautiful townhouse.

After all the obstacles we had to endure, we couldn´t have done it without Mark and Laura Anderson.



Cliff & Diane Whitson



---
Brian & Michelle Messerschmidt
Brian & Michelle M.

Mark & Laura,

Just a little note to say "THANK YOU" for the awesome job you did at marketing our home we sold. You took the time to explain and answer all our questions & concerns. We love our new home and feel free to stop and visit us any time. The work you did for us is truly appreciated! Chris will definitely be contacting you when it comes time for him to buy his 1st home. Your work will be highly recommended to anyone we know wanting to buy or sell. Thank you again for all your hard work!



---
Kou Xiong
Kou, Mike & Aurora

Mark & Laura,

We just wanted to say thank you for making it possible for us to get the home that we want. It has been a pleasure working with both of you. Searching and buying has been a positive experience thanks to the both of you.